Pre-morning
These days, I sleep with my phone nearby because I need the alarm to make sure that I'm up in time to have my coffee hour before I have to bring my daughter to work. At about 3am, I have heard some Facebook messenger notifications going on and when I had to get up to pee, I saw a fellow had messaged me about an offer for my quad. He has an '03 Yamaha Raptor that he wants to trade toward the deal.
It's not the best year for sure and those things are only worth about 2/3rds of the price I'm asking for nice hard to find custom Quadracer, but it is still a good trail bike that I could flip if the deal goes in my favor. We'll see how the deal plays out through the day. I'm currently leaning toward not going for it because of the year. I would like a newer one.
Morning
Brought my daughter to work as usual.
I've been watching a bunch of tool box videos lately. I find them interesting to see how folks organize their big mechanics toolboxes. I'm working on setting up my garage for working on ATVs and making stuff, and organizing is always interesting to me, so I am looking at how other people are doing it as much as I can.
My one stop for the day.
I cancelled my regularly scheduled work for today because it is all shoeing and it is supposed to rain heavily all day and only today. The last thing I want to do is shoe horses in the rain all day when I can just do them another day when it isn't raining.
Shoeing horses requires me to have my rig all opened up and all my nice tools exposed to the weather (as well as myself).
This is a new client that called me yesterday.
The Voting Line Is Intense, Even In The Rain.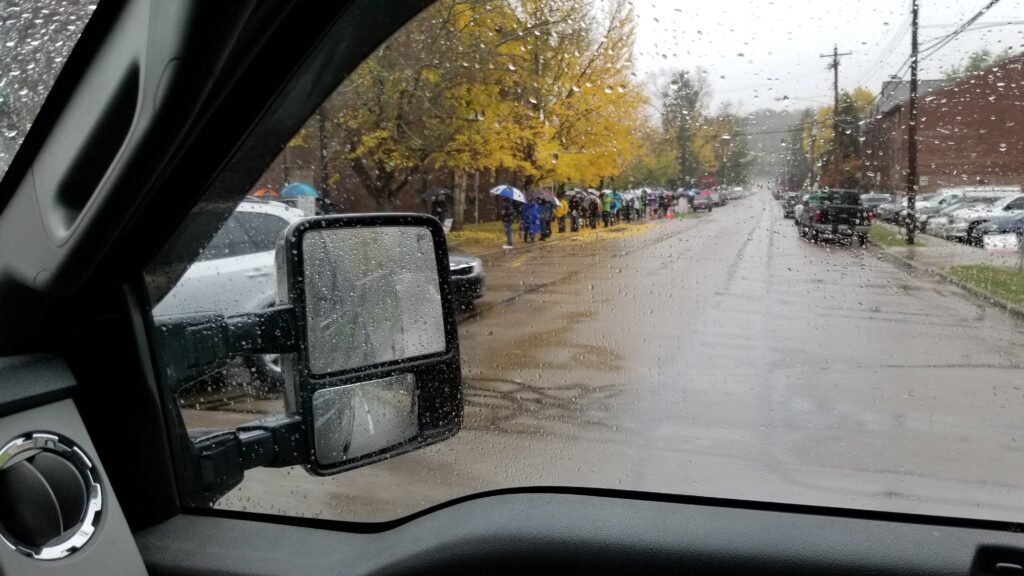 Out to lunch
GoldStar of course.
Finally back home for the day.
Time to get some articles written and clean up the websites.
I'm primarily working on Hive promotion articles on @DiggnDeeper.com. Friday is going to be a good article about the players working on promotion and their projects. I want to help out as much as I can.
@Farrier.Services and FarrierServices.net
Well, nada. Maybe tomorrow.