*Disclosure: I only recommend products I would use myself and all opinions expressed here are our own. This post may contain affiliate links from ebay and Amazon at no additional cost to you. I may earn a small commission. All prices listed are approximate and subject to change anytime.
This is a build series for a 2005 Yamaha Raptor 660R.
Purchase price: $1600 in ragged out condition.
Projected build price: Can I keep to under $3500? Market analysis: Facebook marketplace, ebay…
Market Price for Premium Built $7500
Projected sale price: Raffle to select group?
Yamaha Raptor 660
This is a great classic machine. The power is phenomenal but also very tame at least in factory-esque condition. It is also capable of huge performance gains for aggressive power desires. Its perfect for beginners or advanced riders. Very few people can ride better than a Raptor can run.
Getting Started
I'm going to pull this apart to the frame and paint. The previous guy spray painted the thing silver. A lot of it has come off because of course he just blasted over the dirt and whatever.
Some people's kids.
I'm going to have to address some of the threads at least.
My daughter Brooke bought this Raptor and we didn't get much done with it. I needed the tools I have spent the last two years or so working on getting. But now we are there and I think I'm ready for parts. Money doesn't grow on trees, it appears. To that end, I'm building this into a constantly updated reference on how to build a Resto Mod Raptor 660 with links to where you can buy the parts and as much information as I can curate or create.
Patreon | YouTube | Odysee | Hive
Editing blog might be at Flying-Higher.com
Leak down test
Now that I have the engine out, I can use my leak down tester. It doesn't need to be out, but it does help to be able to see where the problems may be.
Organizing
Organizing this is taking some thought. I'm trying to be very slow and methodical. My plan is to document all the parts with details and links (many of them affiliate links to Amazon and Ebay) so that it is easier to do more builds.
Wiring Harness
$
There is a Moto1988 brand wiring harness on Amazon, but they never have one for the '05. Once again, I have a bastard year.
I'm pretty positive I saw a solution on a forum that I will try to hunt down. Please catch me on Discord if you happen to know how to make an '02-04 harness work on an '05. I think it was jumping a pin.
The electrical harness on this machine has apparently been raped and I've taken it upon myself to try to fix it. More than fix it, I want this to be the beginning of a whole new thing for me. I'm trying to have the ability to expertly diagnose and repair auto and motosports wiring. This Raptor should be a good project to use as a good start in learning how to make electrical harnesses. I want to have a full inventory of the parts and tools and all the how tos curated also.
Fasteners
$215.00 for a complete polished stainless steel kit on ebay.
Need a packout organizer with complete details of nuts, bolts, washers and such in the system. This should include an organizer with location, full hardware specs including torque. Full inventory for sale and how tos.
I have a polished stainless steel bolt kit. My plan is to use that as a starting point to identify each bolt and further customize as needed.
Disassembly
Take the front a-arms off first. I took the swing arm off first this time, but the rear end would stabilize the machine better if on during front end disassembly.
Keeping all frame bolts in the holes. Is that a good idea for sandblasting and painting?
I sent the frame and subframes off to Cincinnati Blasting, who happens to be a neighbor. Its handy to have neighbors like that. The results look great to me. Unfortunately, I didn't get pictures, but now they are painted.
I used 2 cans of Krylon Fusion Paint & Primer in Metallic Silver to apply three layers to everything. I think it came out pretty nice so far. No drips or flaws anywhere that I can see. The can says "no drips" and I'm really surprised to see that there really isn't.
Elka Legacy Shocks
Steering Stem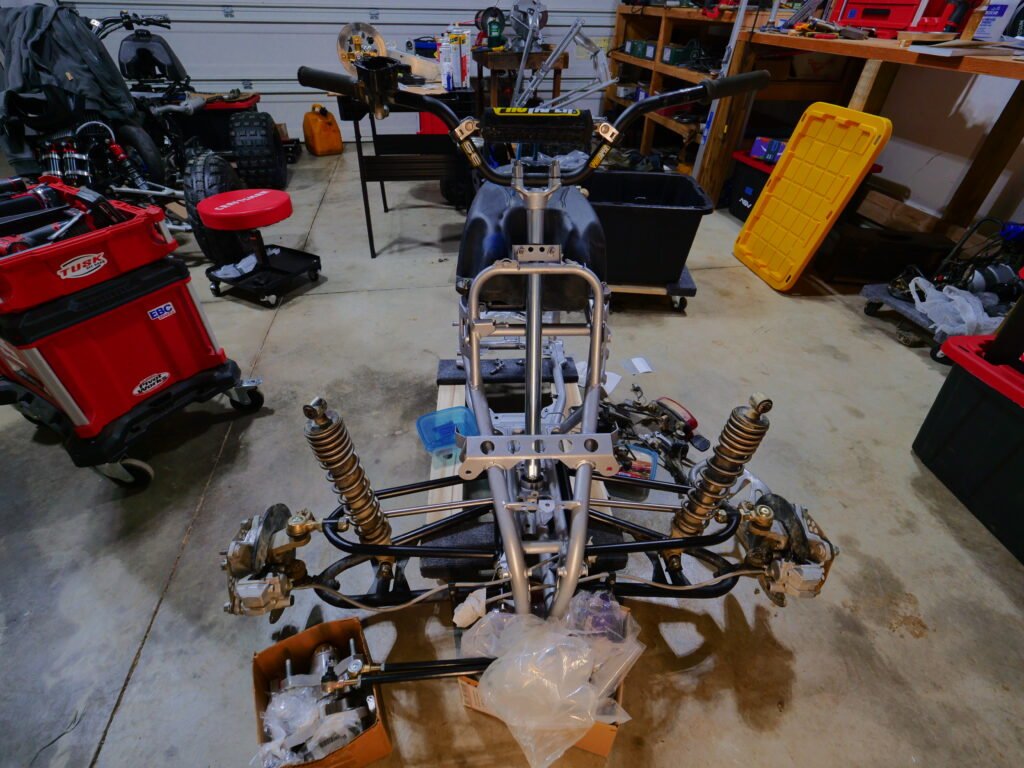 Bearing holder Part # 187155032385 – the original had been beaten to within an inch of its life. – $17.00
Steering Stem Bearing Nut Bolt Removal Tool
New OEM Steering stem.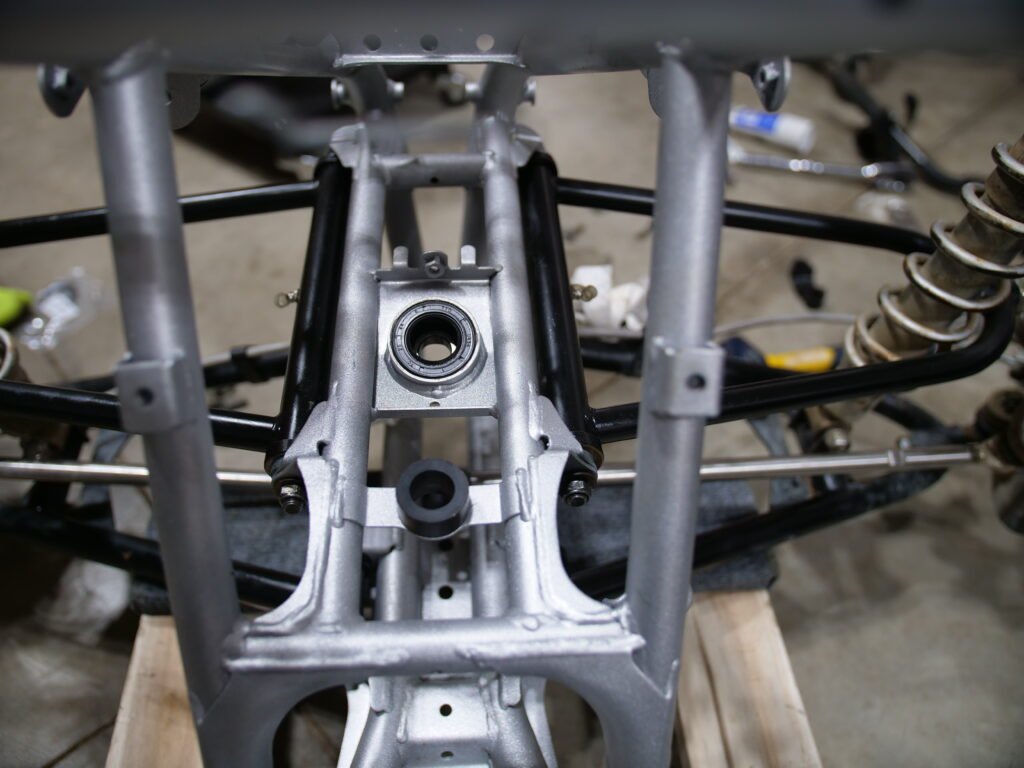 Engine
Mishimoto MMPS-YFM660-01 Powersports Aluminum Radiator – $160
Head
I'm getting ready to do this part now.
What condition is mine in? Tests?
Studs
Cylinder and Piston
These should be bought paired.
What is a good compression? It looks like I should do 11:1 That is still pump gas, but significant increase in performance and sound? Matched with port & polish head…
Carburetor
Clutch
Transmission
Drive and Rear Suspension
swing arm bolt came off with an air hammer -slowly but steady. Should make a blunter hammer for gun for this. Might consider a 12″+ c clamp to press it out?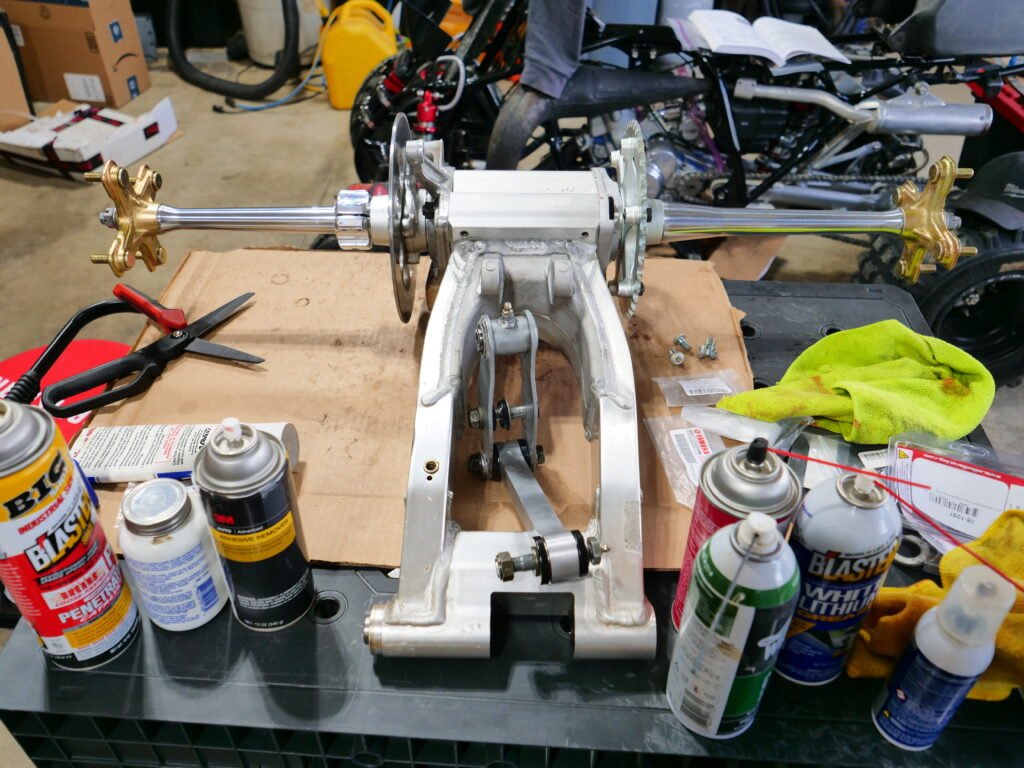 The current List of Stuff To Fix or Upgrade
Build an updated list of build parts.
Alba +2″ A-arms. At some point, I really want to have Build Camps where we build our own and show others how they can also to the same.
Foot peg bolts and threads on frame.
A arm bushings
shock linkage
chain rollers