Everyone in the family went in big together to get @liljespy a nice quad.
July 4th
Everyone has a machine to ride now, except @liljespy. He does have this janky Go-Cart.
So, I have to tell you about how the family has been planning on a big Independence Day ride for quite some time now. I guess Luke really wanted something to ride, of course so he was texting me on Discord about how to pull and clean the carb on this thing.
I couldn't figure out how to explain that, so I suggested what to look for on YouTube. He got to doing the best he could and got the thing running at least a little.
Anyway, after laughing hysterically at @liljespy trying to keep up with all the big machines, they disappeared into the horizon and I suggested that we cross the creek. That did not go well.
We have all been thinking that @liljespy needed a machine but didn't have any thoughts about doing anything about it. I'm thinking at about this time here, a few of us decided to come up with a way to make it happen.
July 5th
We all went home and then the next morning, as we were all sitting around talking about the ride and Brooke suggested that maybe we all could pitch in and get him a quad for his birthday.
I looked on Facebook Marketplace and found this quad here and a couple other Blasters that seemed like they might be nice.
Then the texting started and within a few hours, the money had more than been raised and we all decided to go look at this one – a mostly complete fresh rebuild. It started up and sounded great.
We bought it and took it home.
Once we got it home and tried it out, the party was quickly over. It just wouldn't run right at all.
I started looking at the machine and I could see right away that it had a janky Chinese carb on it. It was brand new, but clearly not quality. When I looked around on the internet, I can see exactly what this one was and it was like a $15.00 carb. That's dumb, so I ordered up a MORE expensive crappy Chinese carb.
I should have done a compression test right away, but I didn't and just waited on parts and fussed with the carb for too long.
July 12th
I finally realized we should do a compression test and it was dismal.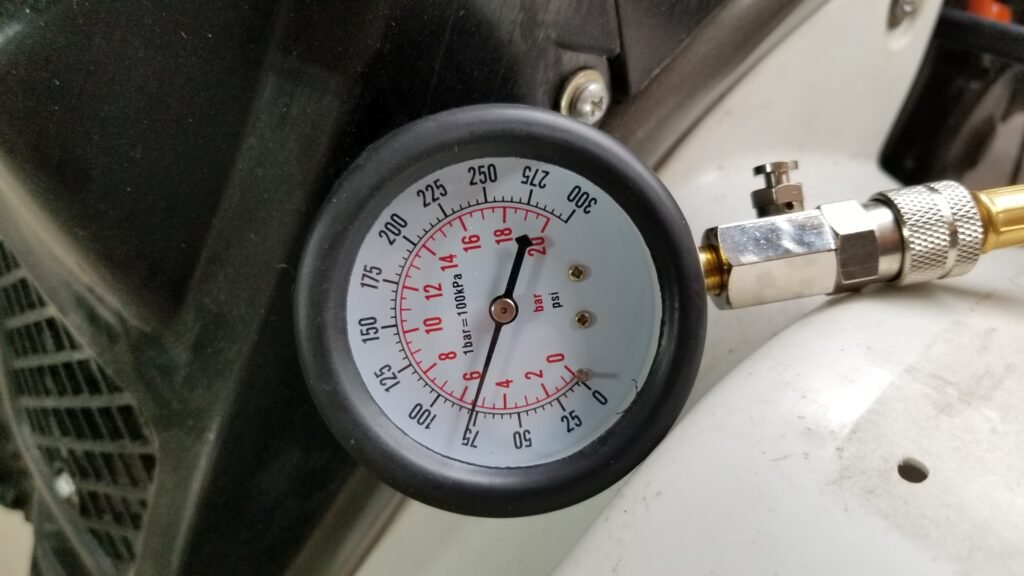 The seller did tell me that the top end was due for a rebuild and he wasn't lying. These Blasters should have about 125 pounds of compression. So, I ordered a cylinder and piston kit for it.
July 17th
Cylinder and head came in and we started taking down the top end.
Oops.
Well, would you look at that. It needs a new head.
Off to the internets and we wait for the head to come in.
Saturday. July 24th – The day before the party.
We finally have all the parts.
@william-gregory and I woke up bright and early and worked solid through the day putting the top end together.
We started the break in procedure.
The graphics crew showed up in the evening and did a killer job
I think the graphics look awesome. Thanks to Damian, Grace and the other kids too, they picked out a great looking graphics package and put it on. They also used some other custom graphics that @liljespy could never do without.
And Finally!!
Happy Birthday @liljespy
The crew on their way out for a ride.