I'm writing this at the end of the day instead of throughout like I have been the last few days. It was a nice and easy day, though it took a lot longer than I expected. The weather was perfect for working and I am always thankful for that. We don't get much good weather around here (Cincinnati, Ohio area).
Starting out by putting my shoeing supplies away.
I got some new supplies yesterday and just threw them here on the self to put away this morning. Its a few boxes of horse shoes some nails and a bit of equilox impression material for one particular horse. It's just a few boxes, but it takes a bit of time to put them on the shelves and then check the truck for what is needed and put them there too.
I just built these shelves a week or so ago and this is the first time I added any inventory to them. They are perfect. It is very convenient to set the boxes on top and put the stuff away right there.
For the longest time all my shoeing stuff was just in a shitty pile on the floor where these shelves now are. There was no way to keep good track of what I had and what I needed. Life is getting better. The rest of the garage is getting better too. All this new activity is from my Keto diet. I'll go into that some time soon. It's kind of a big deal for me. I swear I feel like I'm 20 years younger and it shows in my activity levels.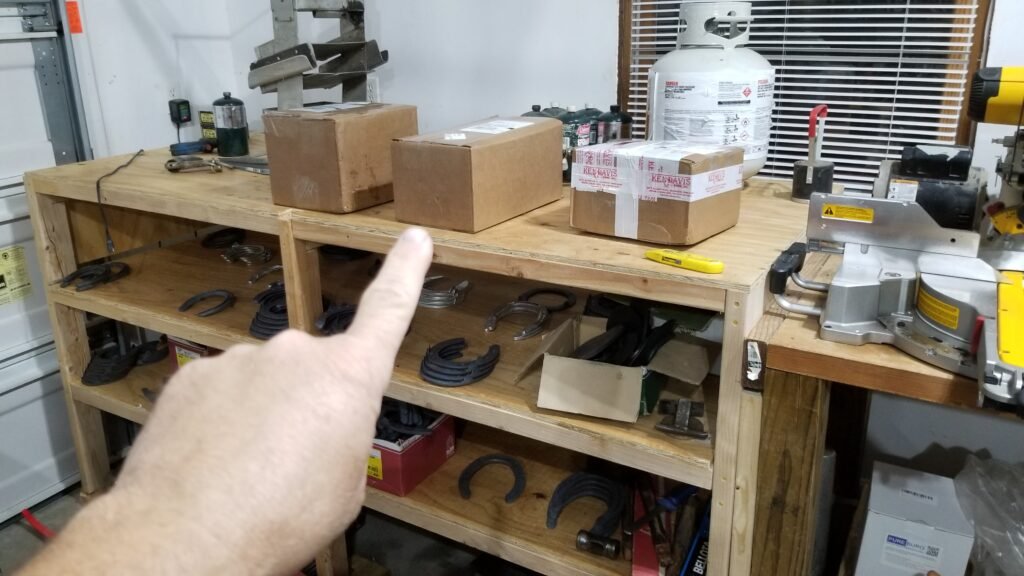 So, I got that done and drove about an hour to my only stop for the day.
It is a barn in Union, KY for a lady I have been shoeing for a good twenty years or so. There are a lot of horses at this account and I split them up because its too many for me to shoe in one day. I only shod three horses today because the lady had to leave early and I was kind of lazy (as usual). I will be back on Monday and if I don't get the rest done then (I highly doubt it), also next Friday.
Unfortunately, I didn't get any pictures while I was at the barn shoeing horses.
If you are curious, I have a website, FarrierServices.net and you can also check out my #Hive account @farrier.services
Working on the Suzuki LT250R Quadracer.
When I got home this afternoon, I started stripping the stuff off the quad. There is a handful of things I need to do with it right now, like replace ALL the bolts and hardware, clean up the wiring and just generally keep an eye out for other gremlins.
I'm not going to pull the engine yet. That will have to come out soon even if I do rebuild it because there is a stripped bolt holding the reed cage, so if that is the threads on the hole and not the bolt then I will have to pull it and install a Time-Cert to fix the threads.
This build, as with all of them is to be top shelf on nothing. No corners will be cut on my builds.
Because a previous owner didn't have the same goals as I do, pretty much every bolt on this bike is wrong. I supect this thing has been taken apart and put back together so many times since 1987 that this is just where we are now. And where we are now is in my hands, so I bought a COMPLETE polished stainless steel bolt kit that will replace every single bolt on the bike.
Not only will that be very good for the bike, but it will look awesome too. It's details like this that make a build really stand out as a quality bike.
This is an example of why I bought the bold kit. This is the upper engine bracket and it is missing one bolt completely and one doesn't have a nut. The third has play and probably didn't have long before it shook loose too.
I love this stuff.